World Security Report
2020-02-03 09:38:59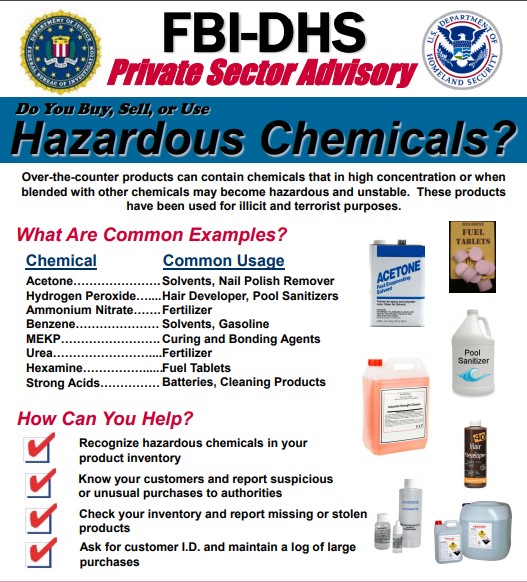 Bomb-Making Materials Found in Batavia Student's Residence
On 26 November 2019, authorities discovered bomb-making materials (BMM) and containers at the home of a Batavia, Illinois, high school student. The FBI notified the Batavia Police Department of a tip received from a third party indicating someone in Batavia bought materials used to make explosives. The initial investigation led them to the juvenile's residence, where investigators found highly-volatile explosive materials, bomb-making equipment, and other BMM. As a precaution, police with bomb-sniffing dogs searched the student's high school and found no evidence of explosives or BMM.
Media sources stated that a science supply store notified the FBI of suspicious purchases made by the Batavia High School student. Identifying suspicious purchases and reporting them to local law enforcement or the FBI is exactly what the Bomb-Making Materials Awareness Program (BMAP) promotes with its accredited outreach training and awareness courses. This case study is important because it underscores the need for outreach to science supply stores and chemical retailers targeting the science education marketplace. BMAP offers posters and cards that can be distributed to point-of-sale retailers of hazardous chemicals commonly used as explosive precursor chemicals.
The FBI are promoting awareness of the over-the-counter chemicals that could be used to build an IED and encouraging retailers to be aware of and report any suspicious purchases. We thought that this was worth sharing.
---
For more information contact: