S2 Global
2019-10-14 13:59:40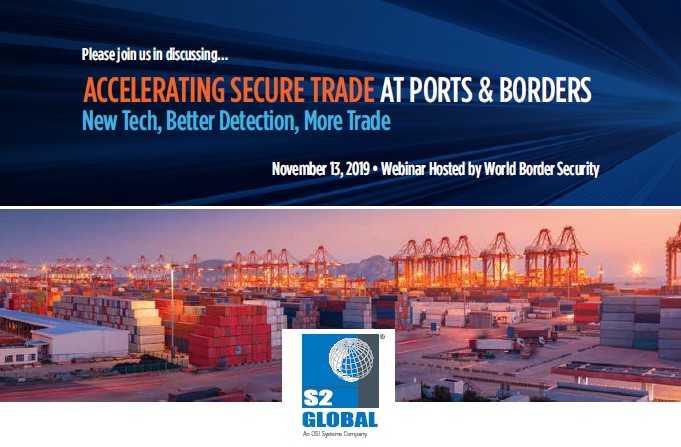 Accelerating Secure Trade at Ports & Borders - New Tech, Better Detection, More Trade - Webinar: November 13, 2019, 10:00AM Eastern Time Zone
Upgrading inspection capabilities by integrating systems allows ports and borders to create fast entry lanes that are capable of 100% inspection.
During this webinar, representatives working with US CBP, international Customs agencies, global port operators, trade executives and defense leaders will discuss initiatives that enable data sharing between agencies and facilitate more inspection, better detection, faster Customs clearances and increased trade.
REGISTER NOW
Melissa Odegaard, Director Marketing at S2 Global
As the Marketing Director for S2 Global, Melissa Odegaard leads the management of the company's global marketing initiatives. Her experience is in brand management and communications as well as tactical skills in the development of complete marketing programs. After working with Rapiscan's parent company OSI Systems, where she developed the corporate and subsidiaries branding, she came to Rapiscan, then S2 Global to promote the brand across all channels and in all regions. As director, she works with cross-functional teams to produce high quality marketing programs to communicate our company's vision. She participates in market tradeshows conferences and acts as the company's spokesperson for targeted audiences in Customs & Border Protection, Event Security and the Air Cargo industries. Recently, Melissa manages the large-scale brand program at the Rapiscan Systems Classic PGA TOUR Champions annual golf tournament honoring the men and women who serve, protect and defend us during a week of security related seminars.
Prior to S2 Global, Mrs. Odegaard managed business marketing programs for small to mid-size businesses throughout the globe with a concentration in the luxury beauty and interior design markets as the owner of her own firm.
Melissa graduated with honors from Pratt Institute of Design in New York, NY.
Randy Barnby, Senior Director Strategic Business Development for CertScan at S2 Global
Randy is a recognized industry leader working with operators and customs organizations in the sea, land, and air vectors to deploy screening and software solutions. With over 18 years of experience in the Non-Intrusive Inspection industry, Randy has extensive knowledge of production, operation and service of NII and software solutions.
Randy has supported mechanical and electrical engineering of NII systems and managed an international customer service department where he introduced improved processes at SAIC. He delivered first generation remote image capabilities from NII systems to Customs agencies at ports of entry at L3.
As the Senior Director of Business Development, Randy helps organizations achieve breakthrough improvements in security, efficiency, revenue collection and compliance though the deployment of the CertScan integration platform.
Randy holds a Bachelor of Science degree in manufacturing engineering and is a certified project management professional.
REGISTER NOW
---
For more information contact:
1800 Eller Drive, Suite 400
Ft. Lauderdale
FL 33304
United States Of America
Tel: +19547797102