WSi News
2019-01-18 12:13:55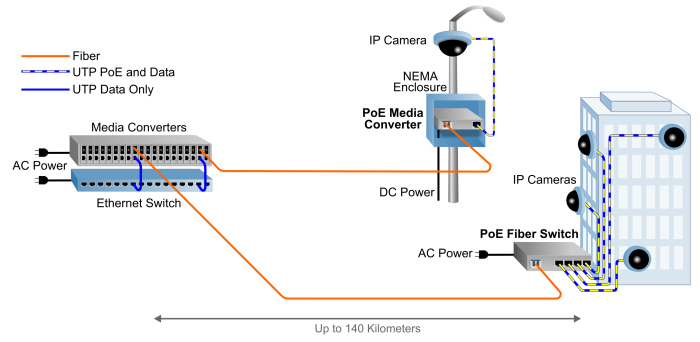 Extending Network Distances to PoE Surveillance Cameras
Power over Ethernet (PoE) technology enables powering of IP surveillance cameras through the transfer of DC electrical power along with data over copper Unshielded Twisted Pair (UTP) network cabling. PoE is typically deployed where access to AC power is inconvenient, expensive or infeasible to supply. PoE can power IP cameras located on rooftops, light poles, along border fences, pipelines, transit routes and other out-of-the-way locations. The cost of bringing electrical power to each camera is eliminated by powering the equipment through the UTP cable.
The maximum Ethernet transmission distance on copper UTP cable is 100 meters. This creates a challenge when installing Powered Devices (PD) like PoE IP cameras more than 100 meters from the Power Sourcing Equipment (PSE).
The latest generation of PoE copper extenders can achieve distances of 400 meters by connecting up to four 100 meter copper network links in a daisy chain, and do not require AC power. PoE extenders have one RJ-45 port that receives PoE power (PD), and one or two RJ-45 ports that provide PoE power (PSE), as shown in Figure 2. PoE Extenders support IEEE 802.3af PoE (15 W), IEEE 802.3at PoE+ (30W), or HPoE (60W).
PoE media converters and PoE fiber switches can extend network distances up to 140 kilometers to PoE cameras using fiber. Fiber optic cabling overcomes the distance and bandwidth limitations of UTP, but fiber does not carry electric current. PoE media converters and PoE fiber switches convert fiber to copper, and provide PoE, PoE+ or HPoE power to one or more PoE cameras over UTP cabling.
An Ethernet switch with RJ-45 ports resides in a server room or security office. The UTP cabling is converted to fiber using a high-density chassis of media converters that enable up to nineteen fiber runs from only 2U of rack space. Media converters provide a reliable and cost-effective way to distribute fiber links, and preserve the investment in the existing copper network equipment. If there are only a few fiber runs, standalone media converters can be used. Network switches with fiber ports can also be used.
One fiber link runs to a PoE media converter installed in a NEMA enclosure on a light pole that provides DC power to the PoE media converter. The PoE media converter terminates the fiber run and provides data connectivity, and up to 60W of power over the UTP cabling to the camera. The other fiber link runs to a PoE fiber switch that is AC powered. The PoE fiber switch terminates the fiber and provides PoE power to four cameras installed on a building. Compact PoE fiber switches support up to eight PoE RJ-45 ports. PoE media converters and PoE fiber switches can provide full PoE, PoE+ or HPoE power on all RJ-45 ports, and are temperature hardened for outdoor deployments. They are available with IP-based web management, and with one or two fiber ports.
By Ty Estes
Director of Marketing Communications, Omnitron Systems
---
For more information contact: