Enersys
EnerSys Inc.
EnerSys Inc. is the world's largest provider of stored energy systems, bringing together the combined experience of long-established brands such as Hawker, Exide and General Battery. It offers a broad range of batteries for military and civilian applications.
Central to the EnerSys defence and security markets are its technically-advanced sealed lead-acid batteries. These are true "maintenance-free" batteries offering exceptional electrical performance and unrestricted transportation by land, sea or air. They use recombination electrolyte (RE), absorbed glass mat (AGM) and pure lead grid technologies.
RE technology allows zero maintenance by ensuring that the oxygen given off at the positive plate during charging is recombined with hydrogen through reaction at the negative plate to form water so that the electrolyte is continuously replenished. AGM technology uses microporous glass fibre separators to absorb all the electrolyte so that there is no risk of leaks or spills and batteries can be transported safely as components, or already installed in military vehicles.
The batteries offer exceptional electrical performance under a variety of operating conditions, from prolonged heavy discharge during engine starting to the long, continuous drain of "silent watch" duty. They can be stored fully charged for up to two years in temperatures up to 25°C and then brought into service, frequently without recharging. They also offer exceptional recovery from deep discharge (when the battery has been discharged completely).
They are suitable as direct replacements (electrically and mechanically) for other types of battery and are suitable for use in a wide range of temperatures from –30°C to +40°C continuous duty.
Aircraft batteries
EnerSys aircraft batteries are used in a wide range of fixed and rotary wing aircraft including the F16 and F-18, Harriers/AV8B's and Hercules transport aircraft. Long life and unrestricted transportation are key benefits. They are often suitable for replacement of nickel cadmium batteries as well as other lead-acid battery types, normally with no modification to battery charging systems. Charge retention is better than nickel cadmium or lead-acid alternatives.
 
Military batteries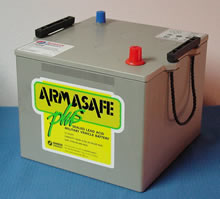 Armasafe Plus is a maintenance-free sealed lead-acid battery for military vehicles. It offers an alternative to flooded-cell units such as the British UK6TN and American 6TMF. Since adoption by the British Army five years ago, it has become standard issue on virtually everything from soft-skinned vehicles to main battle tanks and has seen service in Kosovo, Macedonia and Afghanistan. Armasafe Plus has a nominal capacity of 120Ah at the 20h rate, compared with 100Ah for flooded-cell units. Cold cranking amps are 1225A compared with 650A. In "silent watch" applications it has proved capable of providing power for between 4 and 8 hours where 6TMF batteries required recharging after 30 minutes.
Stationary duty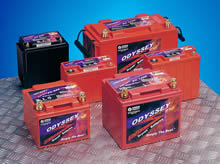 EnerSys AGM technology is also used in PowerSafe and Datasafe maintenance-free batteries for uninterruptible power supplies, telecommunications and security applications. The design is particularly suited to float charging and units are also sometimes used in photovoltaic energy systems. Life in excess of 13 years is possible under the onerous conditions of float charging.
The excellent performance and deep discharge capabilities of pure lead plate technology are available in Odyssey batteries which are intended for general automotive use, and applications involving heavy (high power) short discharges.
Submarine batteries
EnerSys offers flooded-cell lead-acid batteries for all types of nuclear and diesel-electric submarine. These include the latest BLC (bottom lug connection) design which enables the battery to deliver approximately 22% more power under combat conditions or 6-8% more energy for patrol and surveillance.