FN HERSTAL, S.A
FN HERSTAL - SMALL ARMS AND WEAPON SYSTEMS
Under the brand names FN HERSTAL, Browning and Winchester, the Herstal Group equips virtually the entire world and owes its worldwide recognition to its capacity for invention, its continuing commitment to quality and its thorough understanding of the customers' needs.


FN303â"¢ - less lethal launcher:
a viable option to lethal force
FN HERSTAL designs, manufactures and distributes a full range of firearms and accessories for defense and law enforcement as well as sells a full range of airborne weapon systems for multi-role helicopters and subsonic aircraft. FN HERSTAL not only supplies the customer with machine gun specially adapted to airborne applications, it also integrates the weaponry into the carrier by providing and installing suspension masts, stores and management systems, electrical cabling and sighting devices.

M2HB-QCB HEAVY MACHINE GUN
The M2HB-QCB .50cal heavy machine gun is capable of firing explosive incendiary rounds and a full range of ball, tracer, armour piercing and incendiary cartridges. Mounted on the M3 tripod it provides heavy fire support for the infantry against light armour but it can also be used to engage low flying aircraft and helicopters. It is the ideal weapon to mount on soft-skinned and armoured vehicles and also on patrol boats as the main or secondary armament.

FN MINIMIâ"¢ LIGHT MACHINE GUN
MINIMIâ"¢ Machine Gun 5.56 x 45 mm - The SPW model

The MINIMIâ"¢ belt-fed machine gun can be mounted on tripods and vehicle mounts to provide 1,000rpm firepower up to 1,000m. A Para model with a shorter barrel and sliding buttstock and a SPW model with features such as the integral bipod and magazine feed removed to decrease the weapon's weight are also available. These specialised models have a range of 800m and the SPW's rate of fire is reduced to 750rpm. This combat proven machine gun, recently acquired by the UK Armed Forces, has demonstrated outstanding reliability in all combat conditions, including both Gulf wars.

FN MAGâ"¢ GPMG (GENERAL PURPOSE MACHINE GUN)
The MAGâ"¢ 7.62mm medium support machine gun has an effective range of up to 1,500m (with tripod) and a cyclic rate of fire of up to 1,000rpm. It is designed so that it can easily be mounted on vehicles, aircraft and boats to provide effective defence against dismounted troops in the open and behind light protective structures. FN HERSTAL's 7.62mm NATO rounds provide excellent penetration and are available in armour-piercing format.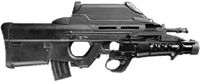 F2000â"¢ Integrated weapon system 5.56 x 45 mm / 40mm LV
F2000 INTEGRATED WEAPON SYSTEM
The design of the F2000, based on interchangeable modules, and its capability to take a variety of accessories, enables it to meet the present and future requirement of different types of units in a wide range of missions. It is the first 5.56 bullpup rifle to be fully ambidextrous without modification.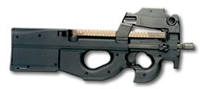 P90® Submachine Gun, 5.7 x 28 mm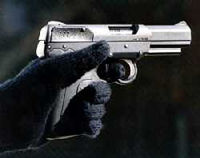 The Five-seveN® Pistols, 5.7 x 28 mm
5.7 X 28mm WEAPON SYSTEM
The 5.7 x 28mm Weapon System is based around the SS190 round which can be fired by both the P90® submachine gun and the Five-seveN® pistol. Both weapons are ergonomically designed with no protruding parts and can be field stripped without tools in a very short amount of time.
P90® SUBMACHINE GUN
With a maximum effective range of 200m and a 900rpm firing rate, this 3kg weapon is highly versatile, having both single shot and fully automatic firing modes. The P90® is fitted with an integrated optical sight that allows the user to shoot with both eyes open; this can easily be replaced with other types of sights.
FIVE-SEVEN® TACTICAL PISTOL
The Five-seveN® tactical pistol is a single action pistol with hidden hammer characterised by a short, light trigger pull for fast accurate shooting.
AIRCRAFT MOUNTED MACHINE GUNS
FN HERSTAL's range of aircraft crew-served armaments includes a 7.62mm and a .50 cal machine gun. These weapons can be installed externally, on floors or in windows and we also supply the interfaces (pintles, etc.), design, installation and integration of these in helicopters and aircraft. Training and after-sales services are also available. At present, more than 700 helicopters and subsonic aircraft have been equipped with these systems.

ROCKET LAUNCHER AND MACHINE GUN WEAPON PODS
FN HERSTAL produces rocket launchers of varying capacities, machine gun pods and combined rocket launcher and machine gun pods for helicopters and subsonic aircraft. All weapon pods feature 14in NATO standard suspension lugs.


Ultima Ratio® Commando sniper rifle, 7.62 x 51 mm NATO